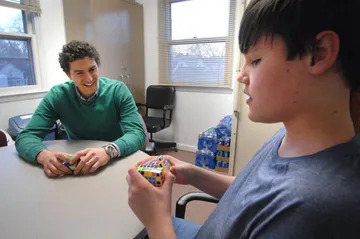 BLOOMINGTON — Ninety-two children in McLean county are waiting for a mentor to step into their lives, and most are boys, according to the Big Brothers Big Sisters of McLean county.
That's why that organization, the Boys & Girls Club of Bloomington-Normal and Promise Council are reaching out to men in the community to clear the waiting list.
"For the school-based program, it's a one-hour, once-a-week commitment during the school year," said Jordan Cobbs, a 25-year-old mentor and case manager for Big Brothers Big Sisters. "Once you get to know the child, it doesn't feel like some huge time commitment."
Cobbs, of Bloomington, has mentored the same child through Big Brothers Big Sisters for six years.
"I'm there for her. I hold her accountable for her schoolwork. We've had a relationship long enough that we can have serious conversations," said Cobbs.
In honor of January being National Mentoring Month, the agencies are launching a campaign with the slogan, "Put the 'Men' Back in Mentoring."
Big Brothers Big Sisters matches each child (or "little") facing adversity with a caring adult mentor (or "big") who spend personal time with them. It may involve helping with homework, playing games, sharing a meal or seeing a movie.
Most littles live in single-parent homes, need extra help with schoolwork or may have some behavioral issues.
"A lot of the boys just don't have a male mentor in their life and they need that extra guidance from a man that mom just can't provide," said Chantel Thompson, program director of Big Brothers Big Sisters of McLean County.
Interested mentors can apply at www.bbbscil.org. Once the application is reviewed and a background check and reference list is addressed, the big is interviewed and paired with a little.